For 5 years my girls have been doing Physie, and each year we hear about Senior Nationals at the Opera House, how wonderful it is, the countries best Physie on display, how dressed up everyone gets…….and this year we got to experience it ourselves!
Miss WW qualified for Nationals for the first time, so over the last two weeks, we have had two return trips from Brisbane down to Sydney, been through 3 cans of Le Tan 'Dark Bronze' spray on tan, scoured the internet for good accommodation for a good price, packed, unpacked, packed, unpacked, taken the obligatory trip to Paddy's Market for another hair piece, drunk a zillion coffee's, taken time off work and school, and spent a small fortune  –  all for a night at the Opera House.
IT WAS SO WORTH IT!! 
I have never been inside the Opera House before, and I was not disappointed. It truly is an enchanting place, and BJP Physical Culture is so lucky that they are able to take over the Concert Hall for a night of glitz, glamour and leotards!
The best Physie from around the country is on display. Girls and ladies arrive in beautiful dresses with their hair and make up done to perfection, proud families join in too. So many photo's are taken to remember this special occasion. It is an honour to make it on to the Nationals floor and the work displayed was inspiring.
Miss WW did not place this year, but had the most wonderful time, performed beautiful Physie, collected all sorts of wonderful souveniers and gifts from her club members and just had a smile on her face all day.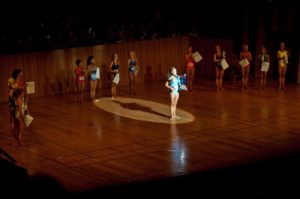 Congratulations Brooke Davey – a very worthy Grand Floor Winner – 2012!
For most of the competitors – years of hard work, stretching and practicing has been done to get the chance to tred the boards that have seen so many famous artists share the same stage.
Every single entrant deserves a trophy and I wish you could all receive one!
Until next year………..wishing the Physie world a safe and merry Christmas and another fantastic year in 2013!