20 Nov 2015 7 Comments
by Nikki in Harmonious Home, JoyFULL Tags: aromatherapy, christmas fragrance, crabtree and evelyn, essential oils, festive fragrance, fragrance oils, perfect potion, pure essential oils, scenting your home for christmas
Many years ago I was gifted a Crabtree & Evelyn pack that contained their Noel fragrance oil.
Every year on December 1 when I put up the Christmas tree, the oil goes in a burner and fills the house with the most delightful fragrance.
Thankfully last year I stocked up and bought a new bottle as well as their other festive scent, because the oils are no longer available for sale according to their website.
You can get Noel in candles, a diffuser and a room spray, thankfully.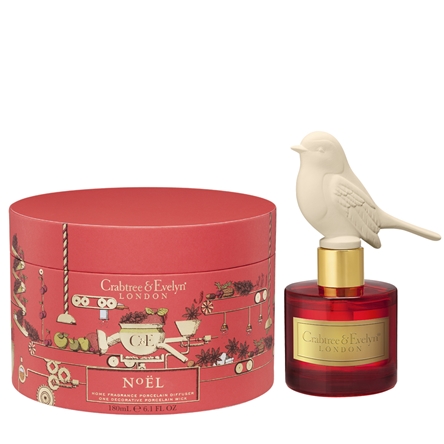 A couple of days ago, one of my besties and I had a rare working week day off and we headed to Chermisde to shop and have morning tea.
We went into the Body Shop as my friend wanted to get some new skincare.
Whilst she was trying lotions I was checking out their Christmas range which included 3 fragrance oils. There was plum, apple and cranberry options.
Unfortunately I did not like any of them. They all smelt a little bit 'fake' to me.
Walked out with a sad face!
What I did discover was a new Perfect Potion pop up style shop.
I love their products, as they are created with true essential oils and this aromatherapy addict simply loves the real stuff.
They have a Noel blend too and it is awesome.
A delicious blend of sweet orange, bay, pine, lime, clove and nutmeg…..winning!
I always like to use my oils in a burner as they help the oils diffuse around the whole house. You can just pop a few drops on a cotton wool ball and place in a small bowl for a more subtle scent.
If you struggle to get that festive feeling happening, fill your home with Christmas fragrance, it works a treat.
Do you scent your home at Christmas time?
What is favourite fragrance?
Sharing for #FYBF at With Some Grace.com
09 Oct 2012 2 Comments
by Nikki in Harmonious Home, JoyFULL Tags: aromatherapy, aromatherapy burner, designer home fragrance, essential oils, fragrance oils, vanilla and coconut smells devine
When you walk in to a beautiful gift shop, not only is it visually appealing, to make you want to buy, there is usually a beautiful fragrance wafting around, to enhance the experience!
Whilst visiting a few beautiful stores up on the Sunshine Coast with my mum a while ago, I fell in love with the fragrance whafting through a store and I just had to find out what it was. I had presumed it was from a product they sold, and I was ready to buy whatever it was!
The lovely sales assistant was kind enough to share that it was not any of the products for sale, but their favourite blend burning away in a Aromatherapy burner.
I am addicted to Aromatherapy and love using Essential Oils to not only fragrance my home, but to help with health as well, so I tend to avoid fragrance oils in preference for the healing property of the real thing……BUT……. I have had to rethink that value, as their secret blend was created with fragrance oils.
The delightful fragrance wafting through the store was a simple blend of VANILLA & COCONUT!
As with Essential Oil, quality costs money. Cheap oils do not provide the theraputic quality or devine fragrance that good quality oils provide – you get what you pay for!
Fragrance Oils are the same, if you buy your from the 'cheap shop' for $2.00 a bottle, they are going to smell like cheap and nasty air freshener, but if you invest in good quality, the fragrance will delight you and have your home smelling gorgeous.
I buy most of my Aromatherapy supplies from New Directions as their range is huge, the quality superb and their prices are fabulous.
To get your house smelling like a designer gift shop, simply get a burner, place a little water in the bowl and add 6 drops of Vanilla and 4 drops of Coconut, light the candle and let the aroma spred through your home. I like using wax melts in my burner rather than water as you don't have to keep checking to make sure it ha not run dry, but this is not a necessity.
What is your favourite blend for your burner? I am always open for new suggestions to try!
10 Sep 2011 Leave a Comment
by Nikki in Beautiful Bodies Tags: conditioner, essential oils, flakes, fungus, get rid of dandruff, itchy, shampoo
Dandruff is embarrassing, unattractive and can be hard to get rid of, but it is not impossible.
Itchy scalp, redness and irritation are part and parcel of living with dandruff and whilst there are a few causes of this annoying condition, such as allergies, fungal parasites and chemical reactions, I have a few great suggestions that can have your locks flake free in no time.
One of the biggest misconceptions about dandruff is that the pesky flakes are caused by overwashing your hair, and many sufferers do not wash their hair as often as they should. Dandruff is simply an over production of skin cells and it is very important to keep your hair clean and remove this build up. The tick to success is using the right products.
A quick fix solution is the commercially available dandruff control products available in any supermarket. If you condition your hair everytime that you wash it, you must use the matching dandruff control conditioner. These products work by leaving active ingredients on your scalp. If you use a conditioner that does not contain these ingredients, you effectively reduce the strength of them when applying and rinsing out your conditioner. These products will not completely clear the dandruff completely or else these manafacturers would be out of business, so it is not in their interest to solve just aid the condition.
With a little extra effort and using natures pharmacy to help you out, you can get to the root of the problem and banish the flakes for good. Not only will you be removing the excess skin, you will also put in place healing mechanisms on to the skin that will help stop the production of excess skin cells.
Firstly buy a natural shampoo and conditioner, take time to read the labels, as some products that are called 'natural' are made with Sodium Laureth Sulphate and you want to avoid this. Add 15 drops of  Tea Tree Pure Essential Oil to each bottle and give them a gentle shake.
The next effective treatment is a scalp rinse that you mix together and apply by massaging gently in to the scalp (not the hair) each night before you go to bed. Combine 1 Tablespoon of Apple Cider Vinegar, 5 drops of Lemon Pure Essential Oil, 5 drops of Lavender Pure Essential Oil and 3 drops of Peppermint Pure Essential Oil dilute with 25ml of Spring Water. Place in a glass jar or bottle and shake gently. (Please use only pure essential oils not the fragrant oils you can buy at discount shops).
Enjoy having flake free hair!