20 Nov 2015 7 Comments
by Nikki in Harmonious Home, JoyFULL Tags: aromatherapy, christmas fragrance, crabtree and evelyn, essential oils, festive fragrance, fragrance oils, perfect potion, pure essential oils, scenting your home for christmas
Many years ago I was gifted a Crabtree & Evelyn pack that contained their Noel fragrance oil.
Every year on December 1 when I put up the Christmas tree, the oil goes in a burner and fills the house with the most delightful fragrance.
Thankfully last year I stocked up and bought a new bottle as well as their other festive scent, because the oils are no longer available for sale according to their website.
You can get Noel in candles, a diffuser and a room spray, thankfully.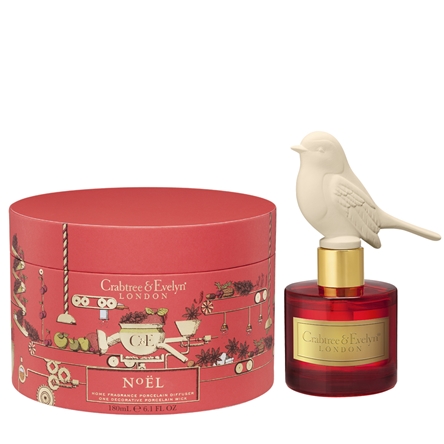 A couple of days ago, one of my besties and I had a rare working week day off and we headed to Chermisde to shop and have morning tea.
We went into the Body Shop as my friend wanted to get some new skincare.
Whilst she was trying lotions I was checking out their Christmas range which included 3 fragrance oils. There was plum, apple and cranberry options.
Unfortunately I did not like any of them. They all smelt a little bit 'fake' to me.
Walked out with a sad face!
What I did discover was a new Perfect Potion pop up style shop.
I love their products, as they are created with true essential oils and this aromatherapy addict simply loves the real stuff.
They have a Noel blend too and it is awesome.
A delicious blend of sweet orange, bay, pine, lime, clove and nutmeg…..winning!
I always like to use my oils in a burner as they help the oils diffuse around the whole house. You can just pop a few drops on a cotton wool ball and place in a small bowl for a more subtle scent.
If you struggle to get that festive feeling happening, fill your home with Christmas fragrance, it works a treat.
Do you scent your home at Christmas time?
What is favourite fragrance?
Sharing for #FYBF at With Some Grace.com
11 Jul 2013 13 Comments
by Nikki in JoyFULL Tags: aromatherapy, books, chocolate, coffee, family, friends, good food, magazines, My life passions, reading, the beach
Where to start, the list is veryyyyyyyyyyy long!
I have many things that I love, and are truly passionate about…..so here goes, my loves in pictures!
This covers the most important things in my life, my two girls and my best friends. Miss 17 and Miss 13 are my reason for living and laughing. This pic also includes one of my besties that I have been friends with for 34 years!
Spending time with mum, dad, my brother and sister in law, always involves great food, bubbles, wine and good times, blessed to still have both of my parents who retired up to the Sunshine Coast, so I have a permanent holiday home at the beach to visit whenever I like, good stuff!
I love shoes, and have lot's of them, that these are also in my favourite colour, the hottest of hot pink, makes them perfect!
Life without good coffee, is no life at all. I love coffee as long as it is not the instant variety. Our coffee machine works overtime in this house, as both my girls are into coffee. I don't mind tea either and will often start my day with a Tetley's or something yum from T2.
Chocolate and I are the best of friends, thank you very much Mr Cadbury and all the beautiful European deliciousness and the creators of marzipan and everything else in between.
Books, books and more books, just can't get enough. Reading, learning and flipping through glossy magazines is my favourite way to enjoy some down time. Very rarely will a novel be in my hands, I love to learn, so non-fiction piles up high on my bedside table!
Heaven on earth in my eyes involves a beach, a pool or a pond (preferably with a 5 Star Resort attached to it – no camping for this little black duck). Adore the water and a holiday just ain't a holiday for me unless water is a major player. After travelling the world with my family and being a corporate travel consultant for 13 years, I have seen my fair share of beautiful water wonderlands, and I love everyone of them.
Aromatherapy is my go-to medicine, relaxant, fix just about anything joy! You will often find me dripping and dropping my favourite blends, for my health and happiness. Pure essential oils are an important tool for me and my girls.
I could go on forever, but had to stop somewhere!
Getting comfy on THE LOUNGE today Musings Of The Misguided, come and get cosy too!
09 Oct 2012 2 Comments
by Nikki in Harmonious Home, JoyFULL Tags: aromatherapy, aromatherapy burner, designer home fragrance, essential oils, fragrance oils, vanilla and coconut smells devine
When you walk in to a beautiful gift shop, not only is it visually appealing, to make you want to buy, there is usually a beautiful fragrance wafting around, to enhance the experience!
Whilst visiting a few beautiful stores up on the Sunshine Coast with my mum a while ago, I fell in love with the fragrance whafting through a store and I just had to find out what it was. I had presumed it was from a product they sold, and I was ready to buy whatever it was!
The lovely sales assistant was kind enough to share that it was not any of the products for sale, but their favourite blend burning away in a Aromatherapy burner.
I am addicted to Aromatherapy and love using Essential Oils to not only fragrance my home, but to help with health as well, so I tend to avoid fragrance oils in preference for the healing property of the real thing……BUT……. I have had to rethink that value, as their secret blend was created with fragrance oils.
The delightful fragrance wafting through the store was a simple blend of VANILLA & COCONUT!
As with Essential Oil, quality costs money. Cheap oils do not provide the theraputic quality or devine fragrance that good quality oils provide – you get what you pay for!
Fragrance Oils are the same, if you buy your from the 'cheap shop' for $2.00 a bottle, they are going to smell like cheap and nasty air freshener, but if you invest in good quality, the fragrance will delight you and have your home smelling gorgeous.
I buy most of my Aromatherapy supplies from New Directions as their range is huge, the quality superb and their prices are fabulous.
To get your house smelling like a designer gift shop, simply get a burner, place a little water in the bowl and add 6 drops of Vanilla and 4 drops of Coconut, light the candle and let the aroma spred through your home. I like using wax melts in my burner rather than water as you don't have to keep checking to make sure it ha not run dry, but this is not a necessity.
What is your favourite blend for your burner? I am always open for new suggestions to try!